<![if !vml]>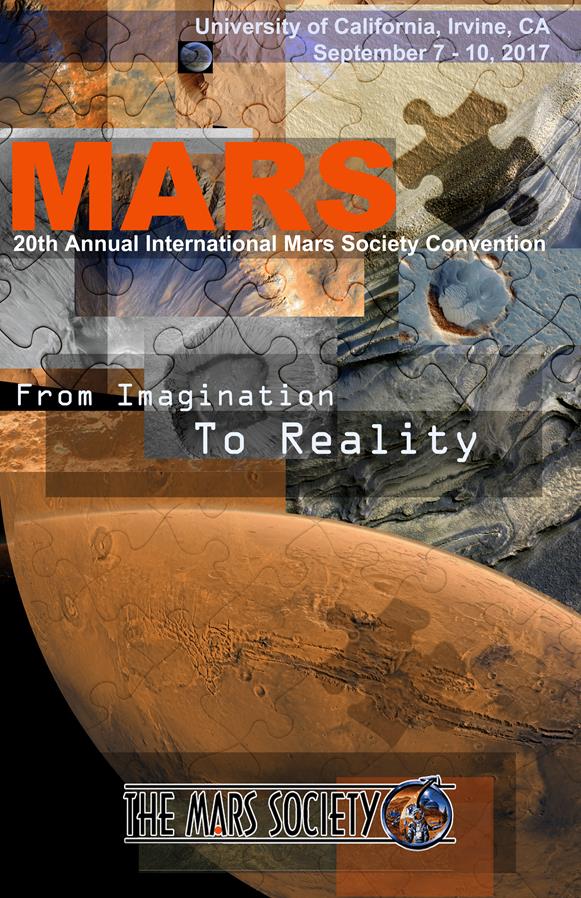 <![endif]>
<![if !vml]>

<![endif]>

FROM IMAGINATION TO REALITY
20th Annual International Mars Society Convention
University of California, Irvine, CA
September 7-10, 2017
Rise to Mars
Music by Oscar Castellino
Words by Oscar Castellino and Robert Zubrin
Arrangement by James Welland
<![if !supportLineBreakNewLine]>
<![endif]>
The new inspirational anthem "Rise to Mars" will be sung by Oscar Castellino
accompanied by James Welland at the Mars Society banquet September 9, 2017
<![if !supportLineBreakNewLine]>
<![endif]>
Here are the words of "Rise to Mars"
Rise to Mars! Men and women
Dare to dream! Dare to strive!
Build a home for our children.
Make this desert come alive!
<![if !supportLineBreakNewLine]>
<![endif]>
There are challenges before our eyes
That nature never knew
But the power of human enterprise
Shall take us through and through!
Rise to Mars! Men and women
Dare to dream! Dare to strive
Build a home for our children
Make this desert come alive!
<![if !supportLineBreakNewLine]>
<![endif]>
Come along raging nations
Altogether hopeful spirits
Bring an end to strife
For our future lies beyond the skies
<![if !supportLineBreakNewLine]>
<![endif]>
Rise to Mars! Men and women
Dare to dream! Dare to strive!
Build a home for our children
Make this desert come alive!
<![if !supportLineBreakNewLine]>
<![endif]>
Come along, altogether
For our future
Rise to Mars!
<![if !supportLineBreakNewLine]>
<![endif]>
The premier of "Rise to Mars" at the Royal Welsh Symphonia may be viewed on the Mars Society YouTube Channel
Wednesday, September 6 (Pre-Convention Events)
6pm-7pm - Early Registration
University of California, Irvine
A311 Student Center
Irvine, CA92697
7pm-10pm - Steering Committee Meeting
(The first hour is open to the public)
University of California, Irvine
A311 Student Center
Woods Cove C
Irvine, CA 92697
Thursday, September 7
Pacific D
9:00am - Opening Plenary
Dr. Robert Zubrin - President, The Mars Society
9:30am - Plenary
Greg Benford - Author & Astrophysicist, UC Irvine
10:00am - Plenary
George Whitesides - CEO, Virgin Galactic
10:30am - Plenary
Vera Mulyani - CEO, Mars City Design
11:00am - Plenary
Loretta Hildalgo-Whitesides - Author & Consultant, Virgin Galactic
11:30pm - 1:00pm - Lunch Break
Pacific D
1:00pm - 4:00pm Aerospace Workforce Development Symposium
1:00pm
"Opening Space to Change the World for Good" George Whitesides, CEO, Virgin Galactic
1:30pm
Panel Discussion "Educating the Future Aerospace Workforce"
Landon Taylor, CEO Base 11; Al Bunshaft, SVP Global Affairs, Americas, Dassault Systèmes; Noramay Cadena, Cofounder and Managing Director, Make in LA; Dennis Harkins, President, Orange Coast College; Maria Tirabassi, Engineering Vice President, Northrop Grumman Aerospace Systems; Gregory Washington, Stacey Nicholas Dean of Engineering, UCI; Jason Hatakeyama, Chief Architect & Sr Director Product Lifecycle Management, Boeing
2:00pm
Continued Panel Discussion "Educating the Future Aerospace Workforce"
2:30pm
"Caltech/Base 11 Aerospace Mentorship Program: Learning by Experience," David Huynh, Caltech and "WSU Innovation Campus: Creating Stronger Industry Partnerships through Applied Learning," John Tomblin, Wichita State University
3:00pm
"To Infinity and Beyond" Jeremy Bout, The Edge Factor
3:30pm
Aerospace Workforce Development Symposium Q&A and Closing Remarks
4:00pm - 7:00pm
Aerospace Workforce Development Expo
1:00pm - 5:00pm - Session Tracks:
<![if !supportLineBreakNewLine]>
<![endif]>
Technology Track 1  PACIFIC B

Technology Track 2

MOSS COVE A

Political/Philosophical Track 1 - MOSS COVE B

1:00

Morgan Irons; The Deep Space Ecology Three-Zone Model: Results of Recent Experimentation with Ecological and Environmental Mechanisms and Demonstration of Key Concepts of Operation for Quasi-Closed Eco-Agricultural Systems

Shyam Nair, Allen Frederick I. A., Abhisek Balasubramaniam; Arachnidan 6 Wheeled All Terrain Explorer Equipped with a 7 DOF Robotic Arm

Bruce Cordell; Human Spaceflight to Mars as a Self-Organized Critical System

1:30

James French; Optical Mining - A New Approach to Obtaining Space Resources for Mars

S. Bahram Sadighian; Horizontal Takeoff and Landing to Low Earth Orbit

James Heiser; The Civilizational Continuity and the Martian Frontier

2:00

John E. Parks; Look to the Sea: Applying Knowledge and Lessons from the Management of Earth's Oceans for Permanent Human Habitation on Mars

Doug Plata; The Moon: A Stepping Stone to Mars?

Marvin Hilton; Exploring Mars to Civilize Earth

2:30

T. Gordon Wasilewski; Acquisition of Water from Western Utopia Planitia Subsurface: Theoretical Analysis of Sampling and Production Technologies

Ted Ground; "Step One", an Auspicious D-Type NEO Multiple Mission: Destination Deimos 2020

Craig Davidson; Why NASA's Current Direction will Never get us to Mars

3:00

Thibault Paris; Design and Building of a 3D Printed Pressurized Martian Spacesuit

Kent Nebergall; Near Term Space Settlement Risk Reduction Missions

Doug Plata; What is the Business Case for Mars Settlement?

3:30

Matthew Forir; The Case for the use of Electrical Resistivity on Mars

Art Harman; Cis-Lunar? Why a Lunar Surface Base Will Get us to Mars - and a Lunar Orbital Station Won't

Kent Nebergall; Rapid Space Development: Grand Challenges and Vast Opportunities

4:00

Julian Zea; A Self-Sufficient Mars Colony

Craig Davidson; Improving the SpaceX Mars Colonization Plans

Art Harman; A New Hope - President Trump's Space Policy

4:30

Ronald Hattie, The Cost per Pound to Orbit

Craig Davidson; The SharkFin Magnetic Sail
5:00pm - 7:00pm - Dinner Break
Pacific D
7:00pm - Panel
Sci Fi Greats - The Human Future in Space
Greg Benford - Author and Astrophysicist
David Brin
Larry Niven
Jerry Pournelle
Friday, September 8
Pacific D
9:00am - Plenary
Shannon Norrel - Hewlett-Packard, "Mars 2030: Future Travel to Mars Experienced Today by Virtual Reality"
9:30am - Plenary
Dava Newman - Former Deputy Administrator, NASA
10:00am - Plenary
Paul Davies - Director, Beyond Center for Fundamental Concepts in Science, "Searching for a Shadow Biosphere on Mars and Earth"
10:30am - Plenary
Joe Carroll - Tether Applications, "Living Beyond Earth, in Partial Gravity"
11:00am - Plenary
Robert Pappalardo - Project Scientist, Europa Clipper, JPL
12:00pm - 12:30pm Special Lunch Plenary
John Grotzinger - Former Project Scientist, MSL, NASA, "The Curiosity Mission"
12:00pm - 1:00pm - Lunch Break
1:00pm - 5:00pm - Session Tracks:
Technology Track 3
PACIFIC D

Technology Track 4

PACIFIC B

Medical Track 1

MOSS COVE A

Outreach Track 1

MOSS COVE B

1:00

Afanasenko Ekaterina, David Ture Gustav Wikström, Space Food Laboratory: Transformations of space food from the beginning of space era to the future Mars colonies

Eric Robinson, John Hunter; Green Launch - Cannons to the Planets,

Using Low cost Impulse Launch to access LEO at 1/50th  the cost of rocket launch for fuel and supplies needed for a robust Mars Mission.

Susan Jewell, Matteo Borri, Nicholas Jewell, Matthieu Komorowski, Sheryl Bishop, Emmy Jewell; Developing Telesurgery-Teleanesthesia Protocols, Integrating 3D Printing of Surgical Tools, and Testing Viability of 3D Virtual Reality Technologies

Philippe Clermont, Richard Heidmann; Mars Colonization: from Prospect to Project

1:30

Marcus Anzengruber; How Augmented and Virtual Reality will get us to Mars and help Colonize the Planet

Thomas E. Markusic, PhD; An Incremental Strategy for Mars Colonization Part I: Material Supply Fleet

Dr. Jose Antonio Soto, MD; MARS: Hikers Wanted

Adam Lupsha; Speaking Martian to Earthlings - A Primer on Using PR and Storytelling Principles to Pitch Your Science

2:00

Aswath Suresh, Sri Harsha, Vinay Teja, Debrup Laha, Gautam Ranjan, Shivam Bharadwaj, Dhruv Gaba; Exploration-Probe to Jupiter Moon Europa

Darrin Taylor; Free Delivery with Your Order

Christoph Lahtz; Space Biology is the Key to Establish Celestial Sustainable Human Settlements

Mary Turzillo; Mars: Humanity's Evolving Vision

2:30

Aswath Suresh, Sri Harsha, Vinay Teja, Debrup Laha, Gautam Ranjan, Shivam Bharadwaj, Dhruv Gaba; Innovative Human Mars Mission with Vertical Farming

Joe Lingren, Kiva Villegas, Wesley Yu; Low-Mass EDL Designs for Manned Mars Missions

William Gardiner; Better Martians, Better Humans: Will Genetic Therapy Allow Better Living on Both Mars and Earth

Peter Detterline, Gary Becker; Two New Astronomical Observatories at MDRS

3:00

Dr. Joseph Parker; Advanced Propulsion Systems for the Colonization of Mars

Abigail Riggs; The Use of Geophysical Techniques to Locate and Monitor Potential Martian Aquifers

Jan Millsapps, PhD; How to Get (More of Us) to Mars

3:30

George Lordos; Evaluating the Sustainability of Long Term Manned Mars Campaigns Using a Physical Economics Framework

Mikolaj Owczarzak; Augmented Reality and Telepresence Technologies in Future Mars Exploration Missions

Bill Hargenrader, Jeff Pernell, Ron Sparkman; Healthy Eating on Mars: Stepwise Local Approach to Whole-Foods (M:SLAW)

James Melton, PhD; Top 10 Ways to be a Mars Messenger

4:00

Michał Hałon; Mars Rover Design with SKA Robotics

Dr. Ashish Gothwal; A Prototype of Full-body Artificial Gravity Harness

James Burk; Mars Society Internet Task Force - Conquering Cyberspace for Mars

Dr. Ashish Gothwal; Hypothesis: A New Era of Space Suits

5:00pm - 7:00pm - Dinner Break

<![if !supportLineBreakNewLine]>
<![endif]>
7:00pm - Panel
What should be the way ahead for NASA?
<![if !supportLineBreakNewLine]>
<![endif]>
8:00pm - Panel
Panel - The SpaceX Plan for Mars
<![if !supportLineBreakNewLine]>
<![endif]>
9:00pm - Special Presentation
Mars in Film
Saturday, September 9
Pacific D
9:00am - Plenary
Carol Stoker - Planetary Scientist, Ames Center, NASA
9:30am - Plenary
Xavier D. Simon - Advanced Space Exploration Configuration Design Lead, Boeing
10:00am - Plenary
Mars 160 Crew Presentation
10:30am - Skype Session
Dr. Mohammed Naser Al-Ahbabi, PhD. - Director-General, UAE Space Agency
11:00am - Panel
Social & Philosophical Implications
Jim Pass
Greg Benford
Paul Davies
James Heiser
12:00pm - 1:00pm - Lunch Break
<![if !supportLineBreakNewLine]>
<![endif]>
1:00pm - 5:00pm - Session Tracks:
Technology Track 5

PACIFIC D

Technology Track 6

PACIFIC B

STEM Track 1

MOSS COVE A

Political/Philosophical Track 2

MOSS COVE B

1:00

Holger Isenberg; Practical Color Calibration for Mars Surface Images

Robert Madsen; Virtual Reality - Simulating the Simulation

Bob Barboza; Occupy Mars Learning Adventures Fellowship Programs for Middle and High School Students

Mohsen Marefat; Social Implications of Mars Exploration

1:30

David Kutas, Alexis Koulidis, Monica Stancu; Extraterrestrial Drilling Operations - A Fundamental Research

Gerald Black; Nuclear Fusion: Clean, Safe and Cheap Energy and the Next Giant Leap in Space Propulsion

Nicholas Jewell, Emmy Jewell, Susan Jewell, Mark Kaushal; A 21st Century S.T.E.A.M.E.D™ Academy Creating Experiential Learning with Exponential Technologies Offering VR/AR Astronautic Programs and Fully Immersive "Real-time" Simulators for Training NextGen Analog Astronauts, Imagineers, and Astropreneurs

Brent Lane; New World/New Worlds: Parallels in the Evolution of Enterprise-based Exploration Financing from the 16th and 21st Centuries

2:00

Kurt Chankaya; The Human Factor: Manned or Unmanned - Some Thoughts on Mission Resilience

Matteo Borri; Pneumatic Survey System for Martian Atmosphere

Matthew Luttenberger; M.A.R.S. University

Dr. Martin Fowler; The Time is Right for a Martian Covenant

2:30

Kurt Chankaya; The Use of Atmospheric in-situ Resources for Radiation Protection on the Surface of Mars

Art Harman; Don't Destroy ISS in 2024 - Privatize it!

Zach Whitten; Whittenberg Country School Parallax Robots

Amir Notea, Frederico Monaco, Irene Lia Schlacht, Antonio Del Mastro; Socially Organizing Large Scale Mars Missions: What we can Learn from Earthlings

3:00

Prasad Falke; What Improvements to the Deep Space Network are Needed to Support Manned Missions to Mars?

Art Harman; Mars Flyby - Do it in the 2020s, not the 2030s

Ivo Georgiev; MarsianSchool

Robert Riccardi, ON/TO MARS! - A Private Funding Proposal for Mars Landing/Exploration/Outpost Leading to a Permanent Settlement

3:30

Kambiz Eqbal; An Approach through "Energy Offering Methods" throughout the Human Establishment in the Martian Environment; Providing Feasible/ Most Efficient Scenarios to Every Operational Stage

Vinod Sridhar; Mars Electromagnetic Radiation Shielder (MERS)

Mark Cusimano, Steven Shields; Mars Regolith Simulant as a STEM Education Resource

Danny Quintana; Space and Ocean Exploration, the Alternative to the Military-Industrial Complex

4:00

PP Edward Heisler; The US Should End the Ban on NASA Working with China

Hoppe Jennings; Mission to Mars: A way to teach middle school science.

John Stone; How to Fund a Private Expedition to Mars

4:30

Melodie Yashar; Mars Ice House: Designing for Human Factors in Space Exploration Architectures

Henry Stirk; Free Mars

<![if !supportLineBreakNewLine]>
<![endif]>
5:00pm - 5:30pm - Break
Lobby
5:30pm - 6:30pm - Cash Bar
Pacific D
6:30pm - 11:00pm Mars Society Banquet
Song: Rise to Mars: Oscar Castellino
Banquet Speaker: Anousheh Ansari - First Female Private Space Explorer
Mars Society Awards Ceremony
Remarks by Dr. Robert Zubrin, Mars Society President
Sunday, September 10
Pacific D
9:00am - Plenary
Dr. Darlene Lim - Geobiologist, Ames Center, NASA
9:30am - Plenary
Geoffrey Landis - Author & Planetary Scientist, NASA
10:00am - Plenary
TBD - Lockheed Martin Mars Mission
10:30am - Plenary
The University Rover Challenge
11:00am- Plenary
The University Rover Challenge
11:30am - Closing Remarks
Dr. Robert Zubrin, President, The Mars Society